MahShelf outage on July 20, 2008
21 Jul 2008
First we would like to say sorry for the inconvenience brought by the outage. Amazon, our storage provider, is having a service disruption that's causing problems serving our comics and manga content.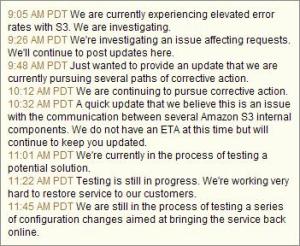 As far as we know, Amazon storage has been very stable, we have not encountered any service downtime since the beginning of MahShelf and they offer an SLA for the S3 service, guaranteeing 99.9% uptime. You can keep track of their efforts over on their own Status Dashboard.
Meanwhile, we will release a newer version of MahShelf after the outage. Possibly we will fix some minor errors and improve some user interface experiences. Please bare with us and come back after a while, we know this is no fun, and we're truly sorry of what happened.